Case tracking: Liver or Life? Jin Shiyuan solves the infection problem after transplantation
---
Introduction
Organ transplantation is the best way to treat end-stage organ failure. However, immunosuppressive therapy reduces the rejection and protects the function of transplanted organs, while also increasing the incidence of post-transplant infections. Infection has become the first cause of death after transplantation, and how to quickly and accurately diagnose infection after transplantation has always been an important issue that plagued the clinic. Pathogen metagenomic sequencing can simultaneously detect bacteria, fungi, viruses, and parasites, providing very powerful technical support for the diagnosis and treatment of infections after transplantation. Below we share a case of infection diagnosis after NGS transplantation.
The patient, female, 50 years old, was admitted to the hospital on April 23, 2019 due to "examination of liver damage with yellow staining of the skin and sclera for more than one year". Primary diagnosis: drug-induced liver damage, liver failure, hepatic encephalopathy, hypoproteinemia, jaundice, interstitial lung disease, and peritoneal effusion.

Diagnosis and treatment
The first stage: After the hospitalization, complete examinations were performed to understand the functions of the whole organ, liver function C, and the criteria for liver transplantation. Allogeneic orthotopic liver transplantation was performed on April 24, 2019.
The second stage: no urine after operation, intermittent CRRT treatment, delayed liver function recovery. The patient had a fever after the operation. On April 25, laboratory tests showed that the number of white blood cells was 15.11 (* 109 / L), neutrophils were 90.2%, procalcitonin was 1.42ug / L, G test was 173.2pg / ml, GM test was 0.66, and Meiping was given. , Vancomycin, cosses anti-infective treatment. Actively search for evidence of infection, and send blood and sputum cultures several times. The G test on April 29 was less than 10 pg / ml, the GM test was 1.29, and the blood culture on April 30 reported that the specimen culture was negative on the 25th. Monitoring of blood routine and procalcitonin (PCT) results were as follows: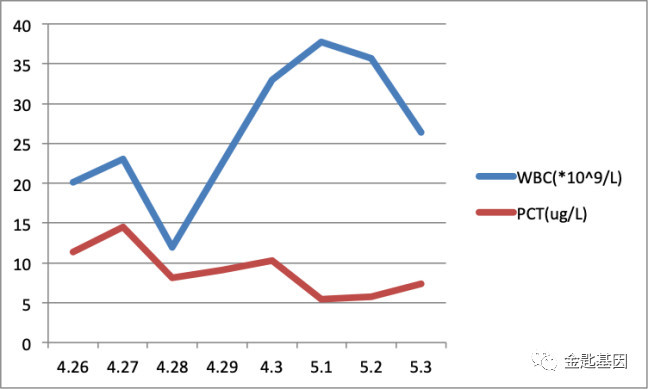 Analysis: The patient's infection was covered by a broad-spectrum antibacterial drug (gram-positive bacteria + gram-negative bacteria + fungi), the blood culture returned negative, and the sensitive drug vancomycin was continued to resist MRSA. The leukocyte was still greater than 25 on the tenth day of liver transplant (* 109 / L), Procalcitonin 7.34.
The third stage: on May 4th, a sudden bloody stool, colonoscopy revealed active arterial bleeding 5 cm away from the anus, the titanium clip clamped, bleeding stopped. In the case of using immunosuppressive agents and hormones, high fever, relaxation fever of 39 degrees, cough, chills, and wet rales in the lungs. Leukocytes were 34.31 (* 109 / L), and the proportion of neutrophils was 92.8%. May 5th returns April 29th. Weillococcus weiungii was grown in a blood filter needle blood collection bottle on April 29th. Peripheral blood culture was negative, and catheter-related bloodstream infections were not ruled out. Replace the blood filter needles immediately, review the blood culture, and give appropriate treatment. Thereafter, blood cultures were reviewed on the 6th, 9th, and 10th days, and all of them returned negative. The sputum culture was sent on the 9th and the Burkholderia polyphage (+++) was reported on the 13th. The blood routine and procalcitonin were monitored. The results are as follows: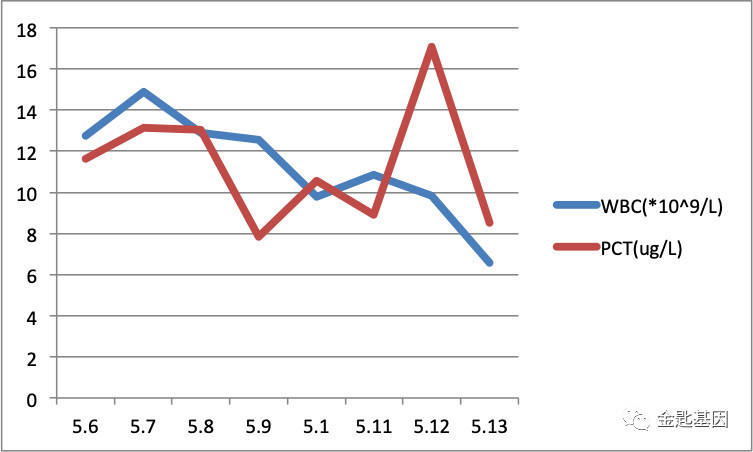 As of May 13th, despite the administration of anti-Burkholderia susceptible drugs, the patient continued to be infected, and the procalcitonin fluctuated. The gold spoon medicine was sent to find the pathogen. The next day mNGS returned the test results
Blood was immediately collected and sent to the laboratory for detection of cytomegalovirus (ie, human herpes virus type 5) nucleic acid for verification. The results were consistent with the mNGS results.
The fourth stage: the clinical anti-infection drug was added with the anti-cytomegalovirus ganciclovir. After that, the patient's infection indicators tended to be normal. The results are as follows:
During the urine culture, Burkholderia polyphage (> 100,000 cfu / ml) and Candida albicans (> 10,000 cfu / ml) were reported during the urine culture. Blood was collected on May 27 and sent to the medical examination again. The re-examination results showed that the treatment The number of virus detection sequences was significantly reduced.

Continue to receive ganciclovir + Tezhixing + Swaal anti-infective treatment, the patient's condition gradually improved, bilirubin, BUN, creatinine showed a downward trend, and liver and kidney organs were in the recovery period. The patient recovered smoothly and was discharged on June 25, 2019.
summary
The patient had fever after liver transplantation, the proportion of white blood cells and neutrophils increased, and the amount of procalcitonin increased. He actively sent for blood culture and sputum culture to find the pathogen. MRSA, polyphage Burkholderia, etc. in sputum were positive for GM test, and they were given full-spectrum antibacterial drugs such as mepin, vancomycin, Swarm, Cossex, etc. Fungus, but the patient continued to have fever, and procalcitonin remained high in fluctuation. In order to find the pathogen, a golden spoon of medicine was sent 20 days after surgery to report the detection of cytomegalovirus. The patient's condition gradually improved, procalcitonin and white blood cells gradually returned to normal, liver and kidney function gradually recovered, anti-infective drugs were stopped, and the patient recovered smoothly and was discharged.
Extension

Due to the large number and long-term application of immunosuppressants, the chance of infection by various pathogens in recipients of solid organ transplantation has increased significantly. The types of pathogens infected have epidemiological characteristics [1], and infections within 30 days after recipients are more common in donor Organs carry pathogens or nosocomial acquired infections, mainly bacterial infections; infections are more common in opportunistic pathogens, latent infections, pathogen activation, and recurrence within 1-12 months after operation; infections more than 12 months after infection are more common Hosts of common community infections, chronic viral infections, and occasional opportunistic infections. In the above case, the postoperative infection was considered to be mainly bacteria within 30 days after transplantation, and because the virus could not be detected by conventional pathogen culture methods, the patient's infection persisted 20 days after the operation, which caused great clinical confusion. After CMV was detected by NGS, the anti-infective treatment effect was obvious, and the patient gradually recovered.
The cytomegalovirus cells and tissues have a wide range of tropism. Epithelial cells, endothelial cells, fibroblasts, peripheral blood leukocytes, brain and retinal nerve cells, gastrointestinal smooth muscle cells, and liver cells can all be infected. In immunosuppressed individuals such as organ transplant patients, the lungs are most often affected and often cause disseminated infection of a wide range of tissues and organs. CMV infection can not only spread into the blood and cause CMV syndrome or terminal organ disease, but also can increase the risk of infection by other pathogens such as bacteria, fungi and other viruses by affecting the function of the immune system. [2]. Early diagnosis and treatment of CMV infection is very important for the prognosis of transplant recipients.
NGS is not limited by the traditional laboratory diagnosis that requires pre-supposition and investigation one by one. No matter the clinically suspected pathogens are bacteria, fungi, viruses, or parasites, they can be "struck through", which can minimize "missed diagnosis" and has a good Prospects for clinical application.
References:
1.FishmanJA.InfectioninOrganTransplantation.AmericanJournalofTransplantation2017;17: 856–879
2.Organ transplantation branch of Chinese Medical Association, Clinical diagnosis and treatment of cytomegalovirus infection in organ transplant recipients (2019 edition), Organ transplantation 2019; 10: 142-148
---
CONTACT INFORMATION
---
Beijing:A202 Innovation Building, Changping Life Garden, Beijing
Tianjin:Building B21, Pioneering Headquarters Base, Wuqing District, Tianjin
Shanghai:1st Floor, Building 2, Xiangyun Technology Park, Jiading District, Shanghai
Guangzhou:F3,B8,Scientific Industry Accerator,No.11,Kaiyuan Ave,Huangpu District,Guangzhou
Tel:400-0618-001
E-mail: genskey@genskey.com
GensKey. All Rights Reserved.
OFFICIAL ACCOUNTS
---